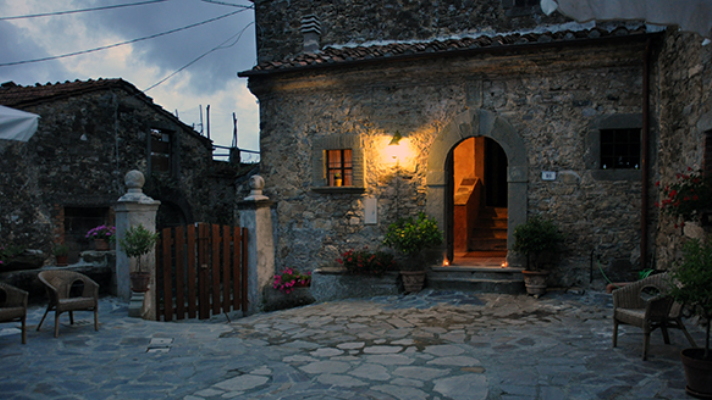 TUSCANY, ITALY
Tuscany from a completely different perspective!
Did you know there are several mountains in Tuscany? I didn't! I associated Tuscany with sloping green hills covered with cypresses and medieval towns. That is, until I went looking for Local Hideaways in this popular Italian region and met Ilaria. Together with her husband Stefano, she runs an Agriturismo in the foothills of the Apuan Alps (the northern part of the Apennines) in the northern part of Tuscany.
When she was little, Ilaria, who is originally from Florence, used to come to the Apuan Alps on family trips and she fell in love with the enchanting surroundings and tranquility… and thus some years ago, the population of Quarazzana, a tiny village located some 600m from the foothills of the Apuan Alps, grew by 25%. For that was when Ilaria and Stefano bought a derelict farm and became resident numbers 9 and 10!
It is evening by the time I arrive at Pisa airport …
… and I have quite a drive (about 1,5 hours) ahead of me. On the toll road the going is easy, but then I have to take a turn and, after passing some villages, I continue my way in the pitch dark along small and winding mountain roads – thankfully, 'no one has ever gotten lost around here, even though getting to this Hideaway may prove to be quite an adventure', Ilaria has assured me! And then, at midnight, under the bright light of the full moon (no coincidence there, I'm sure, as luna means moon) and a starlit sky, I finally reach my final destination. What an extraordinary location!
Ilaria welcomes me and, while enjoying a glass of wine, shows me my room. "everything we own is handmade or renovated by ourselves", she tells me proudly, bursting with enthusiasm for her Agriturismo! And then it is high time to turn in for the night. I can tell you that the healthy mountain air here will help you sleep like a baby!
The next morning, I wake up to the sounds of birdsong and cowbells.
And when I open the curtains, I can see the snowy mountain tops in the distance, wow! Breakfast is delicious and it is proof of Ilaria's passion for cooking, for not only does she prepare most of it herself, from the freshly baked casino bread to various kinds of jams – she also has her special addresses for all the other ingredients: the ricotta has to come from that one special cheese farm, the focaccia bread from that little villages really is the very best! Ilaria learned how to cook from her grandmother, who ran a successful trattoria just outside of Florence for many years.
High time to start discovering my surroundings, for it is beautiful around here! You can walk to your heart's content around here or go mountain biking. Or you can enjoy a lovely cup of coffee, an ice cream or a drink on the charming town square in Fivizzano. The beach is also nearby and the Cinque Terre are only an hour's drive away, if you want to visit a large tourist attraction. But the Apuan Alps in particular are breathtakingly beautiful and as yet unspoilt by tourism! Of course, Ilaria will be able to tell you exactly where to go and what to see.
That evening, I enjoy the pleasant entourage of the Hideaway …
… where the wood burning stove is lit and the wine is lovely. But above all, I enjoy Ilaria's cooking. All of it homemade and prepared with love.
This is a truly special place where I feel completely at home. Ilaria and Stefano are so warm and welcoming and the surroundings are inspiring and peaceful at the same time. Small wonder that it is a popular artists' retreat. But it is also lovely for families or friends. This is Tuscany from a completely different perspective and this Local Hideaway is a diamond in the rough: pure and with a wonderful character!