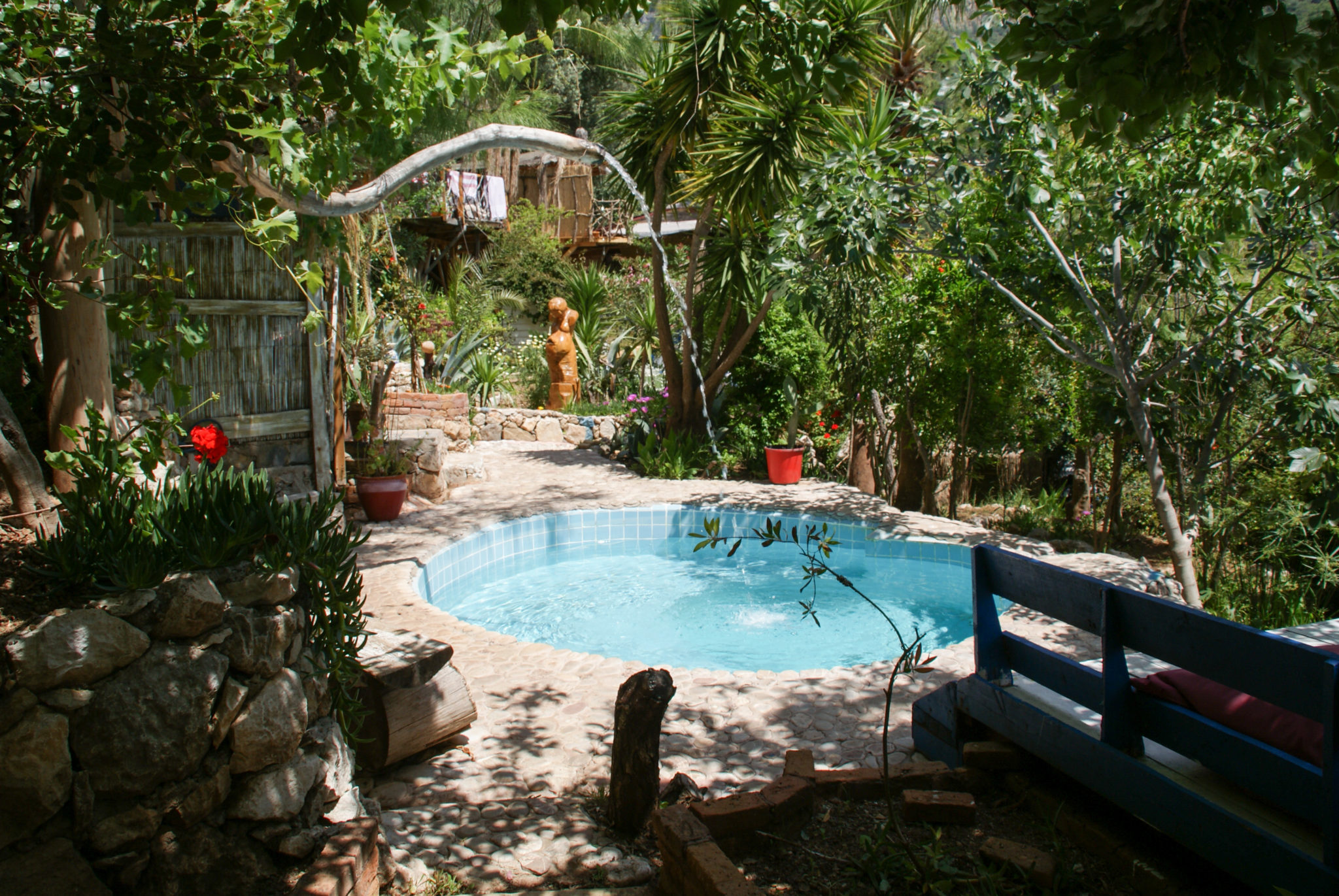 LOCAL HIDEAWAYS TRAVEL DREAMS – TURKEY
Special warning…. I have discovered a hidden Bay in Turkey with an enchanting Hideaway. Before you continue reading, promise me you will tell absolutely no one about this place! This is a Local Hideaway in the truest sense of the word. And the surroundings certainly add to this, so indescribably beautiful!
The Fethiye and Ölüdeniz coast is absolutely beautiful, but dominated by large resorts, which makes it rather hard to picture a Local Hideaway here. Having left Ölüdeniz behind, I am therefore pleasantly surprised when I arrive at the small village of Kabak. The road literally ends here and I am forced to park my car at the 'Last Stop' Café. Gee, this is something special and my heart leaps with joy and curiosity, for rarely have I come across a Hideaway that couldn't even be reached by car! A local 4×4 taxi bus takes me through the Bay to this Hideaway.
THE ROAD LITERALLY ENDS HERE…
And it gets even better, because I feel I have stumbled upon a fairyland. Beautiful flowers, lush greens, turquoise dragonflies, dancing butterflies and brightly coloured birds, impressive limestone cliffs and, ahead of me, the azure sea. This type of landscape reminds me of Asia, not Turkey. And then I reach my accommodation for the next couple of days! It was the first camping site ever in Kabak Bay, but I won't be camping here! When the sympathetic Ece and her husband stumbled upon this place rather by accident some thirteen years ago, they got along so wonderfully with Turan, the owner, they decided to turn their life around and stay!
PARADISE FOUND!
It took a lot of hard work, but under their passionate leadership, this place transformed into an accommodation that was more boho chic. With boutique houses made from reclaimed wood, comfortable beds, air-conditioning and en-suite bathrooms.
With much creativity and using only natural materials, a wonderful bar/lounge/restaurant/library area was turned into a fantastic hangout with a sweeping view of the impressive surroundings.
BOHO CHIC!
I'm staying in the 'Libra' House. From my private terrace I have a stunning view of the sea and the majestic canyons that continuously seem to change colour. You shouldn't expect luxury lodgings here, this is where you go for that one-of-a-kind experience! Being so isolated, everything here is home-made, which gives the place soul. For instance, the houses were built with much love and determination, and several new bamboo houses were recently added.
Much of the decoration is also handmade. And then there is the food. Breakfast is lovely, but wait till you sit down for dinner, when all sorts of lovely dishes are served buffet style. And I never had the same things two nights in a row!
Considering that everything has to be either brought to the Bay or grown there, you can imagine this isn't the cheapest of places. And then there is the super friendly and dedicated staff, like Emir and Hakan, for instance, who contribute greatly to the wonderful atmosphere.
CONNECT WITH NATURE
This Hideaway is ideal for those seeking peace and quiet or inspiration. Yoga classes are offered regularly. The surroundings provide excellent opportunities for long walks. Kabak Bay is situated on the Lycian Way, an ancient 500 km hiking trail around coast of the Lycia. For instance, it's a beautiful walk to the nearby waterfall. And the beach, with its crystal clear waters, is only a five minute walk away.
At the risk of sounding a bit too idealistic, it is so cool that such pure places still exist…and in perfect balance too, I think: nothing too ' soft' or alternative but stylish and of good quality. A Local Hideaway in the truest sense of the word. And the surroundings certainly add to this, so indescribably beautiful…. After all, it's 'all about location!' I genuinely hope that the Kabak Bay 'warriors' will be able to protect this place, for it is more than worth it!
MORE INFO AND OTHER LOCAL HIDEAWAYS ON WWW.LOCALHIDEAWAYS.COM