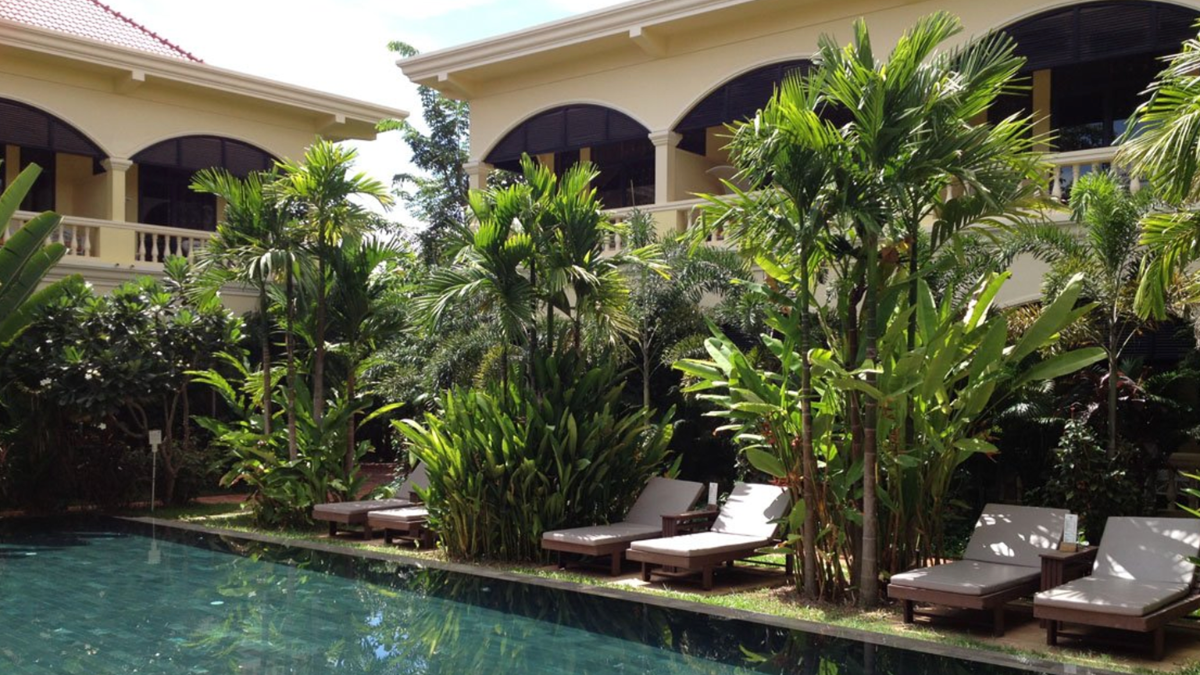 LOCAL HIDEAWAYS TRAVEL DREAMS – CAMBODIA
Let me take you to Cambodia because I fell head over heals for this country. At this Hideaway everything is just right, from the overwhelmingly friendly service to its colonial and tropical ambiance and comfortable rooms. And with your personal tuk-tuk driver you easily visit the town of Siem Reap or the magnificent temples of Angkor Wat.
Rarely have I received as warm a welcome as at this Hideaway. After being handed a refreshing wet towel and a drink, Danny elaborately tells me all there is to know about this place and Siem Reap. Not only does he give me the standard hotel information, he also lends me a book on the Angkor Wat temple complex, a list of some English-Cambodian words (great idea!!), a map of Siem Reap, a voucher for two free massages and, last but not least, he introduces me to my personal tuk-tuk driver for the next couple of days: Mr. Pov.
Mr. Pov is at my disposal from sunrise to 10 p.m. and can take me anywhere I wish to go in Siem Reap, Angkor Wat included. Such a brilliant idea! This Hideaway is located away from the city and my direct surroundings aren't particularly inviting for a solitary trip… but there is no need for that, for now I have Mr. Pov, who knows the city like the back of his hand and who speaks perfect English!
Your personal tuk-tuk driver!
Boy, that's promising indeed! Next, it is time for me to be taken to my room, a Junior Suite. To get there, we cross the spacious and beautiful garden, which is wonderfully lush and full of colourful flowers. On our way, we pass the restaurant and one of the swimming pools (there turns out to be two pools, one of which is adults only). The room is a pleasant surprise as well: lovely spacious and comfortable. Again, everything has been considered: a minibar with complimentary bottles of water, coffee and tea-making facilities, a large balcony with oil lamp and mosquito coils, mosquito nets, an enormous rain shower, turndown service, etc.. I think I will be able to manage here for a while.
The enchanting beauty of Angkor Wat!
The following two days I make optimal use of Mr Pov's tuk-tuk services. He takes me to the enchanting Angkor Wat complex several times. Yes it's touristy but rarely have I seen something so breathtakingly beautiful and of such magnitude! By the way, Mr. Pov knows exactly where to go within the extensive complex and how best to plan the day. In the afternoon, it is lovely to relax at the swimming pool and take in all the morning's impressions.
Late afternoons is the perfect time to go out again. The friendly reception staff help me select some lovely restaurants for dinner, and again, Mr. Pov is waiting to take us safely back to the hotel, how very luxurious. Spending so much to time together, we develop a special bond, and when we leave, my children are genuinely sad to say goodbye to this sympathetic man (and, to be honest, so am I!).
Everything is just right at this Hideaway!
At this Hideaway everything is just right, from the overwhelmingly friendly service to its colonial and tropical ambiance and comfortable rooms. This Local Hideaway offers the best of both worlds: with your personal tuk-tuk driver you can easily visit the busy town of Siem Reap or the temples of Angkor Wat, but you can also enjoy the relaxed quietude and space of the beautiful tropical hotel gardens. This place is an absolute must and a personal favourite!
MORE INFO AND OTHER LOCAL HIDEAWAYS ON WWW.LOCALHIDEAWAYS.COM