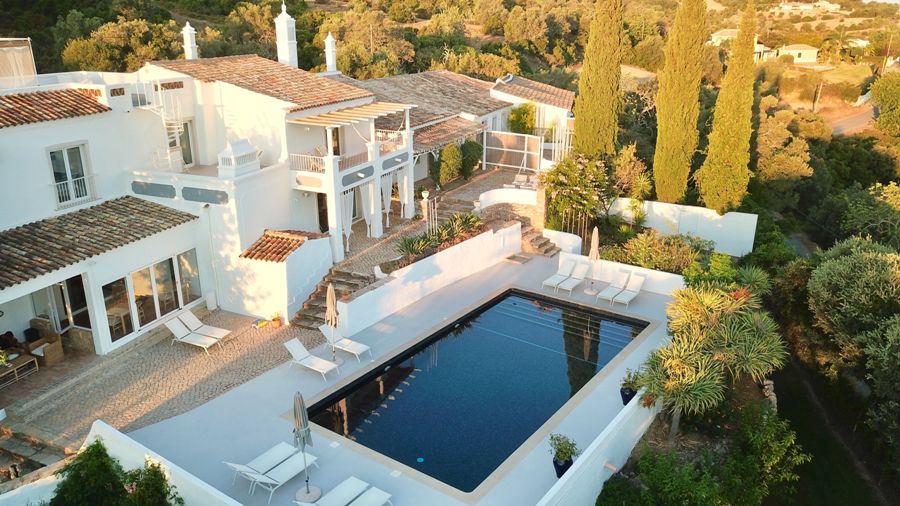 EASTERN ALGARVE, PORTUGAL – LOCAL HIDEAWAYS
Having viewed 150 houses, Frank and Véronique had all but given up hope…
… but going to back to their former banking life was a definite no-go. A place under the sun was their dream! And in 2013, with house number 151 they finally struck gold: a stunning old wine estate – a monte – in the Eastern Algarve, in the hills near the authentic working class town of Sao Bras D'Alportal. But – it needed a lot of work!
Frank and Véronique embarked on a major renovation, trying to maintain as many authentic details as possible while at the same time giving the place a modern look and feel. They restored the beautiful terracotta floors using stones from the nearby brick factory. Local woodworkers provided the wood and furniture and gallons of white lime paint were used to create a striking contrast with the green scenery. These friendly Belgians' new life had begun and their Farmhouse was born!
My trip to this amazing B&B is at the end of September…
… perfect for a visit to the Algarve. The high season has ended, the sea is comfortably warm and the sun still shines abundantly. A warm welcome and an extensive tour mark the start of a couple of wonderful days. There are five rooms in all, two of which are family rooms, all spacious and elegantly decorated with (local) materials and tranquil colours. Comfortable beds, a spacious bathroom with high quality power shower, an espresso machine, private patio, etc. Soon the old barn will be turned into two extra-large rooms, adding another two suits to the B&B.
I have travelled a lot for Local Hideaways and seen many things, but rarely have I come across such elegant perfection. Absolutely everything has been thought of. Not only is the interior quite stunning, Véronique and Frank's hospitality is endless. They will do absolutely everything to make their guests feel at home and have a good time. They serve a superb, home-made breakfast in the mornings. Pure pampering! And they are always available for questions and pointers. This only goes to show that personal care and an eye for detail make all the difference when it comes to distinguishing oneself from the rest.
Twice a week guests can enjoy a three course meal and a fado house concert!
Settle down on the terrace, in the garden or near the lovely pool. Get yourself a drink from the honesty bar and just enjoy the quiet, the surroundings and the amazing views. It is only a short drive to the beach, a nice little village or town, a good restaurant, either simple or fancy, both are closeby. There's a reason why the Eastern Algarve is one of my favourite places in Portugal ;-).
I suffer from a severe case of saudade – homesickness- for this wonderful place. I deeply admire Frank and Véronique for how they have turned their life around and have given it new meaning. Hard work and perseverance have allowed them to realise their dream of 'slow living'!
You can find this Local Hideaway and book your stay or other Authentic, Small-scale, One of a kind & Unusual stays on: www.localhideaways.com! One word of advice: Don't spread the word!
Happy Travelling! XX
Esther van Onna – Owner LOCAL HIDEAWAYS