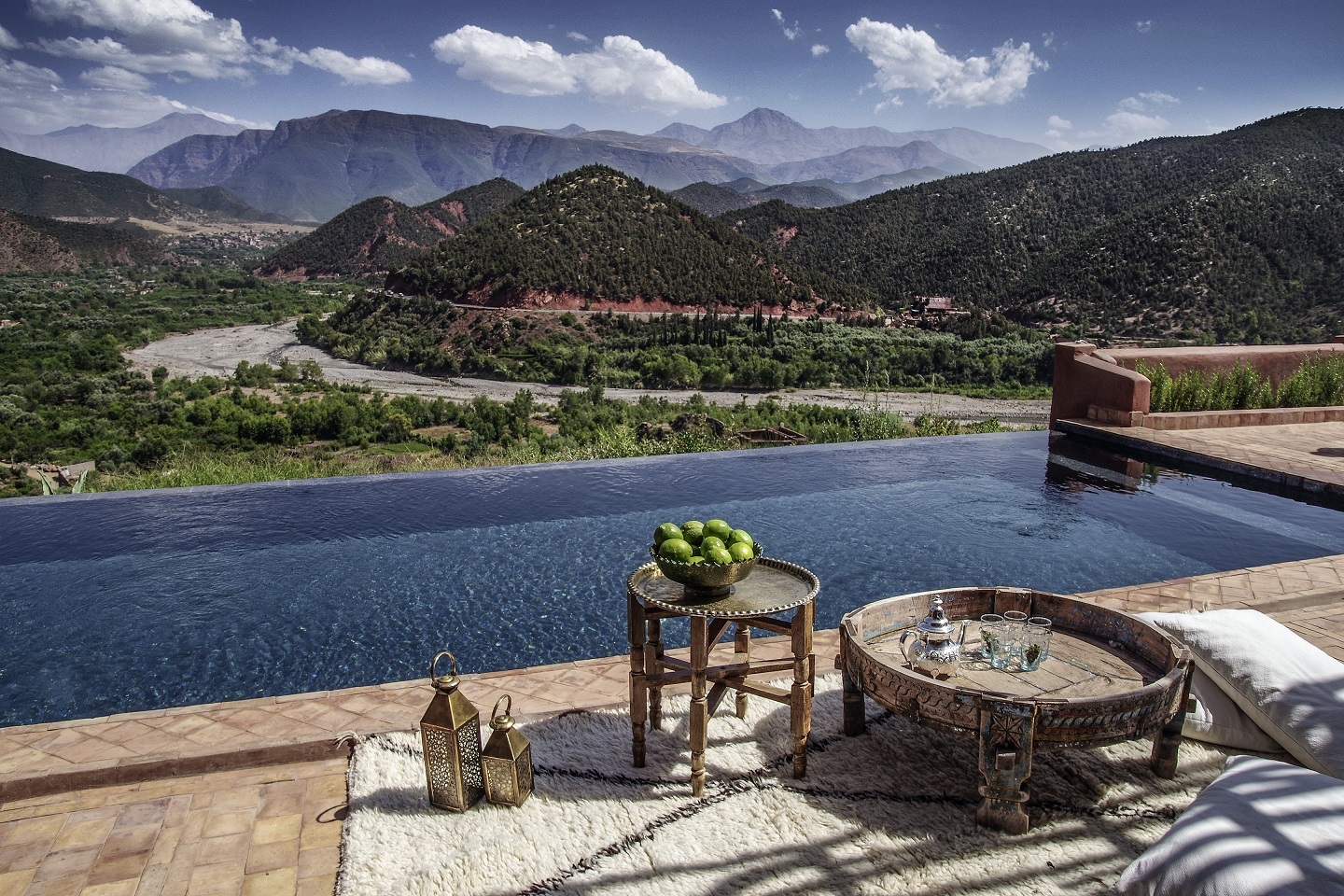 LOCAL HIDEAWAYS – TRAVEL DREAMS EPISODE 2: MOROCCO
Is it possible to fall instantly in love with a hotel and its surroundings? It turns out it is! Even though I'm a spoiled traveller and have visited some of the most beautiful parts of the world, the Atlas Mountains in Morocco and its foothills have me completely spellbound. This is where I'm in my element and I'm enchanted by the natural beauty and purity of the Berber villages…
In 2004, Stephen Skinner was equally charmed with this magical place at the apex of the Ourika Valley. Away from the busy city of Marrakech, he ventured off the beaten track to start a monster project. He wanted to build a Kasbah in complete harmony with its surroundings, using many of the century old building techniques that only Moroccan artisans are familiar with. There was no infrastructure whatsoever, no running water, only this mountain with its stunning 360 degrees panoramic view. And thus, together with interior designer Romain Michelle Meiniere and local workers, he worked hard at creating a modern fortress and related infrastructure. Complete with a stunning garden full of the most gorgeous flowers, plants, fruit trees and a swimming pool.
In 2016, phase 2 was completed: a luxury private villa arose in the back of the garden, featuring two pool suites, another suite, a private dining room and a superior room. And the latest addition, a 11 ensuite bedroom retreat, has just recently opened its doors, it's perfect for hosting groups, weddings, etc.
OFF THE BEATEN TRACK
Only half an hour's drive away from Marrakech my sat nav tells me that I have almost reached my destination. It takes a bit of a search, just as Beatriz had warned me beforehand. I have to be careful not to miss the narrow path uphill, for it is barely visible from the road. However, I don't mind, it's all part of the adventure! These hard-to-find places with their unpaved roads are just what Local Hideaways is always looking for! But I find it hard to focus on the road ahead, for my stunning surroundings are a constant distraction. And then suddenly the Kasbah, built from red clay, looms up ahead of me… WOW!
A FEAST FOR THE SENSES
What a great place! Inside the Kasbah is just as marvellous, for here the muted interior is also in perfect harmony with its surroundings. Earthy colours, organic materials and vintage Berber objects decorate the common areas and rooms. Fireplaces warm the cosy sitting areas and, if so desired, can also be lit in the rooms. I was here at the end of February when, despite the sunny days, evenings can be quite cold and a cosy fire is therefore lovely.
The rooms are very comfortable and peaceful. But the outside terrace beckons and here I enjoy a lovely mint tea while my senses are on overload. Straight ahead of me, the lovely garden smelling of flowers and oranges. To my left, the national park with its deep red colour of clay earth that has eroded into a jagged shape. To my right the sound of fast running water from the river and in the distance the majestic white peaks of the snow-covered High Atlas. A tableau vivant – live painting – that I will never tire of seeing. What magnificent beauty!
A MUST: HIKING IN THE NATIONAL PARK
That night, rosy from the outside air, I enjoy some lovely Moroccan wine and ditto three-course dinner. The majority of the super friendly waiters and other staff are Berber, which certainly gives this Hideaway an extra dimension and further stresses the synergy between the hotel and its setting.
The following day, together with guide Omar, assistant Hicham and Pepito, the resident mule, I take a four-hour walk through the National Park. And, once again, I am delighted by my beautiful location and the quiet atmosphere. The only people we meet along the way are the occasional goatherd with goats. We stop halfway for a picnic lunch and a wide variety of tasty dishes is produced from the baskets that Pepito has so faithfully carried around for us. This hike is an absolute must for visitors!
After a second night, unfortunately the time has come for me to say goodbye to this special place. And I have to admit that I'm a bit sad, for I have really fallen in love with this Local Hideaway: "Rock the Kasbah"!!
MORE INFO AND OTHER LOCAL HIDEAWAYS ON WWW.LOCALHIDEAWAYS.COM