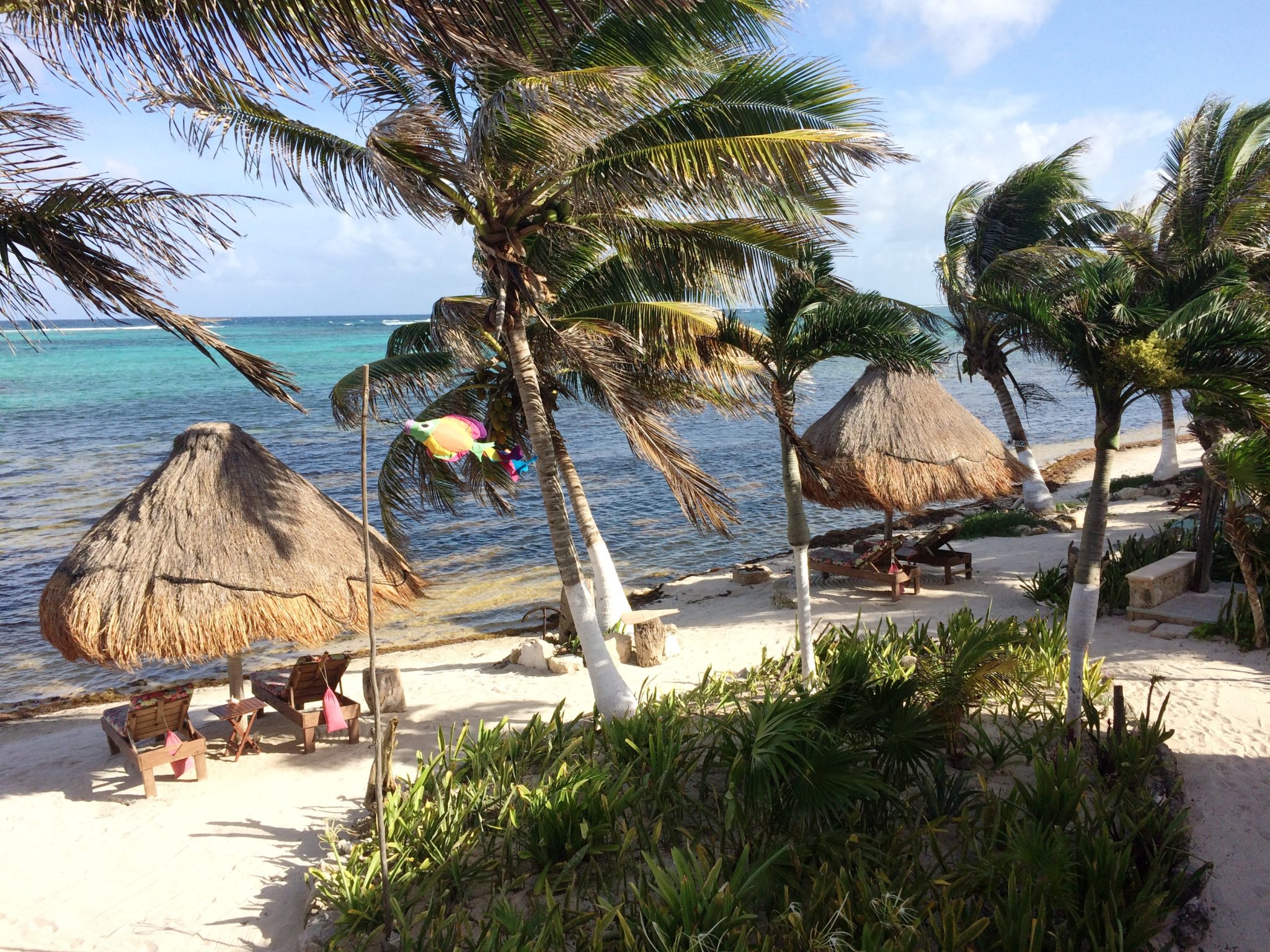 LOCAL HIDEAWAYS – TRAVEL DREAMS EPISODE 1: MEXICO
Actually, I wanted to keep this place in Mexico all to myself … for it is Paradise! But thankfully, this Hideaway only has a limited number of apartments and the beach will therefore never be crowded. It also helps that the final part of the road here is unpaved. Therefore it takes rather a lot of effort to get here. But aren't those usually the best places! I think so! As it was, I was looking for an alternative to Tulum, for man is it crowded here.
I was here 15 years ago and fell for it like a ton of bricks. For years it was my #1 beach destination (and I've seen some lovely beaches!). This is not to say that Tulum has become horrible, it certainly has some very nice areas, look at one of my other Local Hideaways for instance, but it has become really crowded (at least pre-Covid) and I think Tulum has therefore lost some of its original charm!
In my quest for a new heavenly beach location …
… that I wouldn't have to share with so many people, I stumbled upon this Hideaway tucked away in Xcalak, near the frontier of Belize. The village is something of a ghost town, after a destructive hurricane destroyed it and most of the surviving inhabitants moved away. For groceries, you therefore need to go somewhere else. After booking, you'll receive an email containing a handy shopping list and tips. But all your fresh products you can purchase at the local food trucks that deliver at the Local Hideaway's door on a daily basis.
A beach road from the village will take you along a picture perfect coastline. On the other side of which grow mangroves, a perfect place to spot some of the most colourful birds. After passing a handful of houses and a small hotel, you will reach the place. An extraordinary building, it was designed by its previous owner, an architect who started this accommodation with his wife.
Off the beaten track beach life
These days, the place is run by Lesley and Dave, who have left Canada behind for a 'slow life' in Mexico, even though it is hard work keeping the place running (the elements have them working hard continuously) and pampering the guests. But they're doing a great job and it's a real dream place. Together with my family I stayed here for a week in the Querencia apartment, a spacious apartment on the top floor with a stunning view of the sea and furnished in such a way that it is perfect for cocooning.
The fully stocked kitchen allows guests to prepare snacks or a meal in no time, and breakfast essentials are provided. Fresh flowers and candles in the living room enhance the warm atmosphere and the sleeping areas are very comfortable. Don't expect to find air conditioning in these backwaters, a fan will keep you cool at night and there's a nice sea breeze as well. There are only two apartments, but the 3 double bedrooms are also self sufficient, as there is a beautiful large shared kitchen with sitting area for rooms without cooking facilities. Besides that there is jungle studio apartment with a kitchenette.
Spectacular snorkeling
And now for the best part about staying at this place … you don't have to do anything! It is ultimately relaxing. So travel light! There's no need for anything but swimsuits, sunglasses, shorts, shirts, books, tanning lotion and perhaps some snorkeling gear and you're all set! For your days here will be filled with relaxing and doing nothing but going from hammock to beach bed and vice versa.
The daily activity is snorkeling. And snorkeling is spectacular in these waters! There's a fabulous reef with gorgeous fish right outside the front door, and you have it all to yourself! Life's a party, we couldn't get enough, especially my son, who turned into some new kind of "Man of Atlantis": Patrick Duffy, eat your heart out! He did all this under Lesley's inspiring guidance. She took him along and taught him the ropes, for the sea is her front garden and she knows the reef like the back of her hand. Every day around 3.00 p.m. she makes her rounds of the reef.
Ultimate chill-mode
And if you want a rest from your snorkeling activities, get settled again in one of the lovely hammocks or beach beds to read a book or take a nap. While my children are organising a crab race I'm preparing an ice cold fruit shake; life can be that simple! But I haven't finished yet, for at the end of the day it's party time. The bell sounds and it's the start of the happy hour, during which Dave and Lesley serve their guests Margoritas (named after a recipe by Margot, the previous owner) and snacks. I would advise you to do your dinner preparations beforehand. don't say I didn't warn you ;-).
At night, it's time to gaze at the stars and look forward to another day… a new day in this tiny 'slow travel' paradise, where time seems to have stood still and life is wonderful. If only I could whisk myself back!
MORE INFO AND OTHER HIDEAWAYS ON WWW.LOCALHIDEAWAYS.COM and on WWW.REISEN-REISEN-DER-PODCAST.DE.