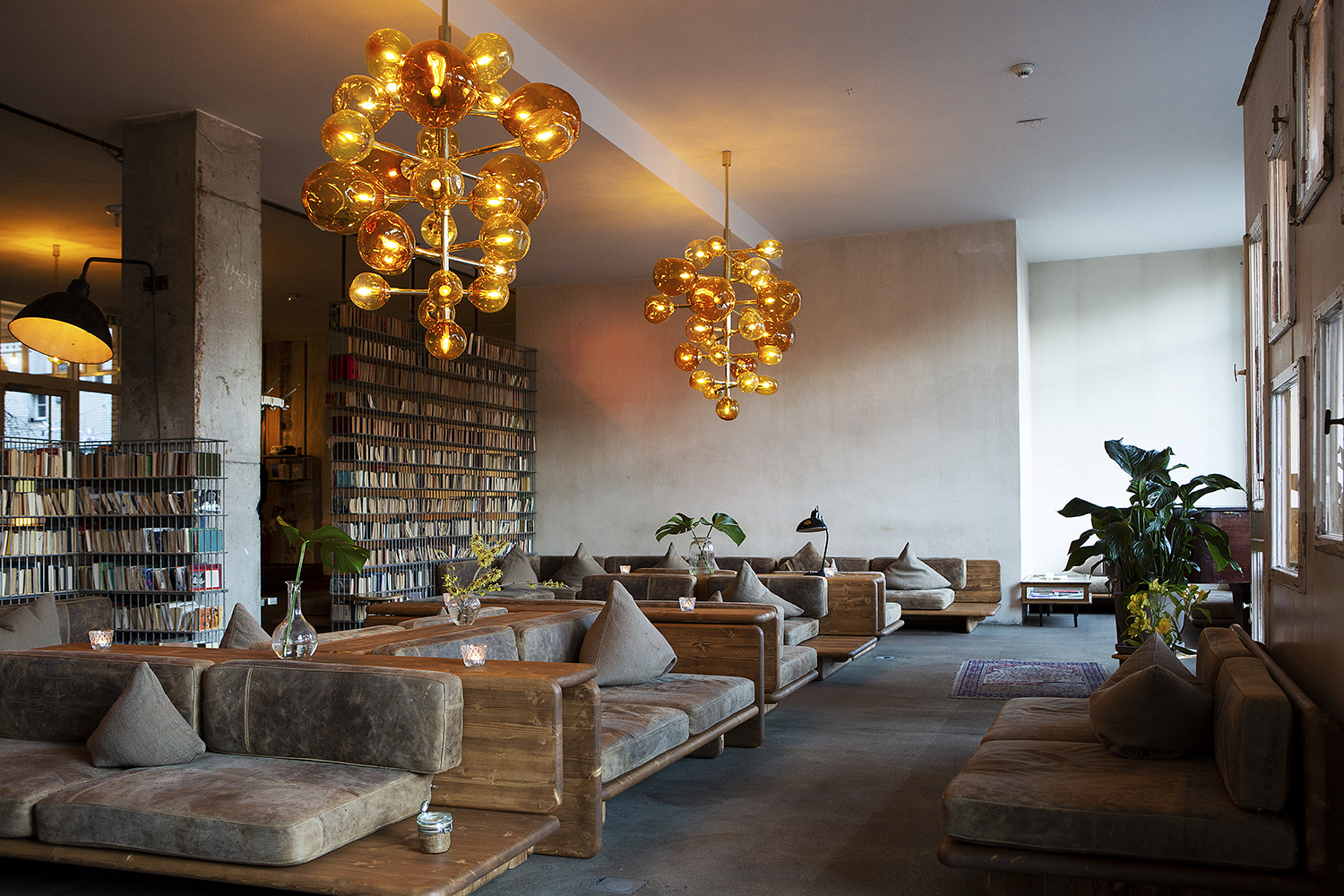 LOCAL HIDEAWAYS: ESTHER'S FAVOURITE GERMAN HIDEAWAY
For me this Hideaway is the embodiment of Berlin: a creative, social, alternative and modern melting pot. Not a standard hotel but rather the result of a group of friends and soul mates giving shape to their ideas! A place to gather and connect for those of us who are young at heart and unconventional.
Tom and Nadine have done a great job, for this place is a genuine and organically grown organization, not some preconceived concept. Instead of involving expensive marketing and advertising agencies, a creative team was given carte blanche and everyone here works on a basis of equality. The employees all feel part of "the family" and are therefore very dedicated, this gives an instant soul to the place!
NOT JUST A TRENDY HOTEL
Coming through the front door, you step into the hotel's living room. An enormous lounge area with bookcases and lazy couches. It's directly connected to the bar, where you can get a lovely fresh cup of coffee, a bite to eat or a drink mornings through nights. A large inner court serves as a lovely terrace where you can enjoy a wonderful lunch during the summer months. The restaurant deserves special mentioning. It's perfect for dining the night away with creative dishes to share. All organic ingredients and most from the Michelberger food forrest just outside Berlin.
SUCH A CREATIVE VIBE
And the rooms! They're all different and a lot of creativity went into decorating them. For instance, I spent the night in a spacious loft room with a large double bed on the mezzanine and a downstairs sleeping couch. And it had a great shower! But the hotel also has larger rooms where you can stay with family or friends, varying from a room with four beds (the Band Room) to a room with six beds, two bathrooms and an enormous table (the Big One). And for a romantic getaway for two there is the Cosy Room.
And there is more. For instance, there are several themed rooms: The Chalet Room, The Gold Room, The Library or 'Room with a View'. All have comfortable beds and a great shower. Some of them even have a bath and, above all, they were all decorated with creativity and style. And last, but certainly not least the brand new additions: the more luxurious Overlook and Hideout rooms. Worth the splash!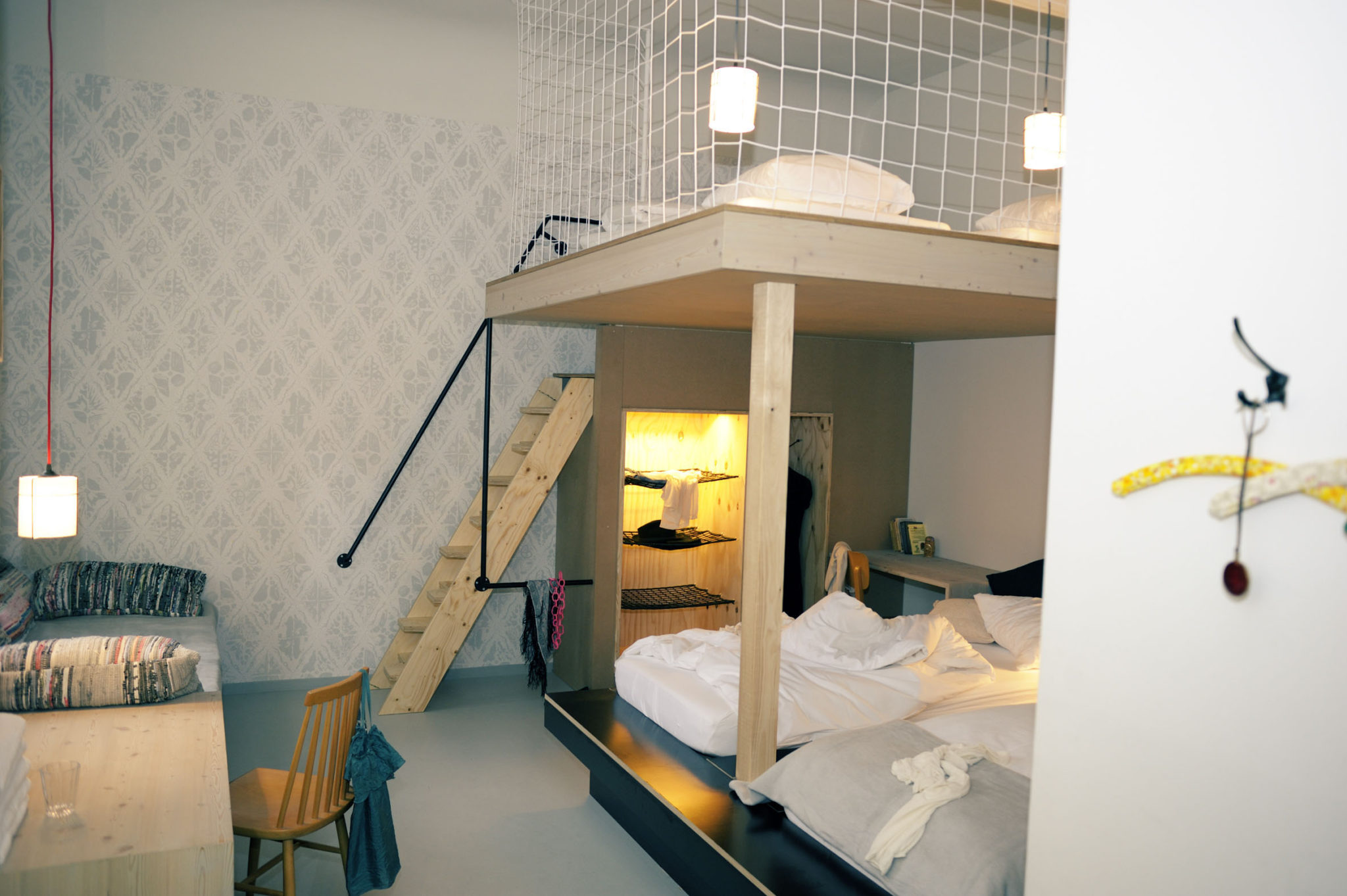 A PEOPLE'S PLACE
Several times a month, the team organizes a performance, an exhibition, a yoga retreat, a secret gig or a similar activity. Also for non-hotel residents so check their socials. It's becoming my motto but once again, it's all in the details. Whether it be the homemade coconut water, served in lovely designer cans (the Fountain of Youth); the surprising doors in all the multifunctional areas or the music playing in the restrooms: hilarious, I can still hear the "drink the coconut water" tune in my head, while in the gents, they were playing corny German football songs (Schlager songs)! This certainly put a smile on my face and that is exactly what the Michelberger hotel is about. 
This is not a hotel for extreme hipsters, but it's a place to gather for those of us who are young at heart and want to connect. It's a people's place! Berlin is calling! When can I go again?!
MORE INFO AND OTHER LOCAL HIDEAWAYS ON WWW.LOCALHIDEAWAYS.COM