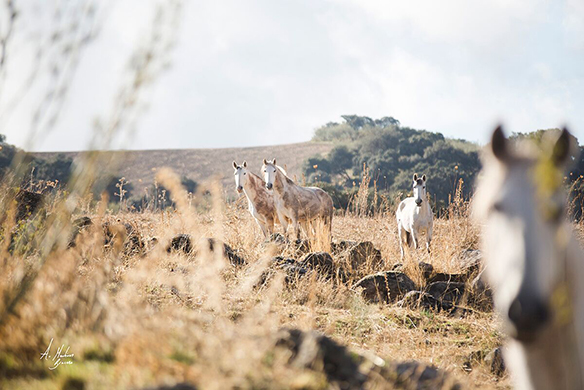 ANDALUSIA, SPAIN – LOCAL HIDEAWAYS
EXCEPTIONAL FINCA RETREAT
Psst… don't spread the word! That's my motto, and it applies to all my Local Hideaways. After all, they are all selected and inspected carefully. But sometimes I come across one that it applies to even more, for there's special and then there's exceptional. The following Hideaway falls into the latter category. It's located 'off the beaten track' in the Andalusian hills between Sevilla and Malaga. A beautiful finca and biodynamic working farm where you experience the new luxury. Being away from all things material and reconnecting with yourself and nature in an ultra comfortable way.
OFF THE BEATEN TRACK IN THE ANDALUSIAN HILLS
Well begun is half done, on the day of my arrival I am told to go to the local pub in a white little village in the Andalusian hills to announce my arrival. The road literally stops here, and when I open the door it's as if I've entered a movie set. This is Spain as it's imagined. A friendly pub owner preparing his customers their drinks, wooden chairs, lots of noise and Spanish flamenco music blaring from the speakers.
I get settled with a drink and Gloria, who is responsible for check-ins, approaches me. We discuss the necessary details and she explains that, from the moment we reach the Finca, I won't be needing any money. Everything – food, drinks, use of the spa – is inclusive, and my bill will be settled in the local pub when I leave. Only extra activities, such as horseback riding, spa treatments and excursions cost extra. This Local Hideaway offers that ultimate home away from home feeling, and they don't want you thinking about money during your stay.
THERE'S SPECIAL AND THEN THERE'S EXCEPTIONAL!
Next, she takes me to the Finca in a 4×4 Jeep over a winding dust road. When we get there, I marvel at the beautifully renovated farm and the wonderful views! This 700 acre domain is owned by a Suisse entrepreneur, who fell in love with this region and wanted to create a biodynamic farm for himself and his family & friends. Back to basics. Working the land in the old fashioned way, only growing fruits and vegetables that are in season, with lots of space for the cattle and his exceptional Lusitano horses. And so a magical synergy has developed between the old Finca and its surroundings. It has come full circle.
THIS HIDEAWAY HAS COME TO FULL CIRCLE.
The Finca features a total of only nine rooms, and it's like being at home, only a more comfortable and elegant one. There is a gorgeous large living room with enormous windows overlooking the surrounding hills, a painting come alive that is constantly changing colour. Next there is the spacious living kitchen, the domain of sympathetic chef Frederik from Oslo, where he used to own a successful restaurant. He prepares the loveliest dishes and experiments freely with spices and flowers from Gigi's herb garden and uses vegetables from his own private vegetable garden. Pure pampering.
The extensive organic and biodynamic wine collection is Maddy's baby. This young Australian winemaker/sommelier is extremely passionate and her enthusiasm is catching. I was lucky to witness the first pluck of grapes of the estate – very special. And for horse lovers it is also the place to be. Seamus, who's Irish, is the inspiring trainer and carer of the Lusitano horses. There are lots of areas to lazy about, for instance at the natural swimming pool or on one of the lazy couches on the terrace.
SUCH A PASSIONATED TEAM!
There is also an indoor swimming pool with stunning view for cooler days and a woodburning sauna and a steam bath for that ultimate feeling of luxury. Hiking, cycling, yoga, stargazing (what a unique experience!!) – it's all possible here. The young and energetic team really go the extra mile to make your stay as pleasant as possible. Guests are part of the family here.
This Hideaway is unique in every way. It offers a holistic experience without becoming woolly or stuffy. On the contrary, its comfortable and elegant design was thought through very carefully. Everything is just right and a real pleasure to the senses. Rarely have I seen such an enthusiastic team (assisted by several volunteers) at work.
Of course, such an experience doesn't come cheap, but I can assure you it is totally worth it. Staying at this Finca is the new luxury: being away from all things material and reconnecting with yourself and nature in a comfortable way. I didn't want to go home… And after I left I couldn't stop thinking about my wonderful stay here. This unique Local Hideaway in Andalusia has stolen my heart!
MORE INFO, OTHER LOCAL HIDEAWAYS AND TO BOOK YOUR STAY… CHECK WWW.LOCALHIDEAWAYS.COM